Hand crafted jewellery from ex rescue boat JUSTUS A WALLER. 
These pieces are made out of the copper sheeting from Justus A Waller which was stationed as a rescue boat on the island Käringön from 1920 until a short way into the 1960´s.
The copper sheeting served as protection to the hull and has thereby attained it´s special patina.
Design and creation: Susanne Svantesson
Every piece has a different colour. Some exemples are shown below in the photos.
Some of the modells can be either, earrings, broches or tie/jacket pins.
Contact Susanne if you would like to discuss colour, form or if you would like to come and have a look at the jewellery.
susanne@krapsan.se | +46 (0)708 – 33 77 70
>> Click on an image to see it in its own window!
 "We trust God and Justus A Waller"
Justus A Waller was built at Fridhem's shipyard in Lysekil in 1919 as a rescue cruiser for the rescue station on Käringön. Justus A Waller patrolled the section Hållö – Pater Noster and made many efforts and dramatic rescue missions. She is one of the rescue cruisers who has made the most efforts and in 1926 four crew members were awarded the Carnegie Medal for a spectacular rescue when the Swedish steamer SS Svecia ran aground north of Härmanö's head. The quote above, "We trust God and Justus A Waller" is what people on Käringön used to say and show its great importance. The quote is still possible to read in the church out on Käringön.
In 1962, Justus A Waller was redirected to Gryt's archipelago in Östergötland and a few years later she was moved to Grankulla. In 1972, Justus passed into private ownership.
In 1994, Justus A Waller was sold to the Hassela collective on Gotland and she was restored at Bodins Båtbyggeri in Herrvik. I had the privilege of following this work and Justus is the boat that appears in my film The King of Herrvik – a portrait documentary about the boat builder Axner Bodin.
Since 2016, Justus is again in private ownership with Visby as its home port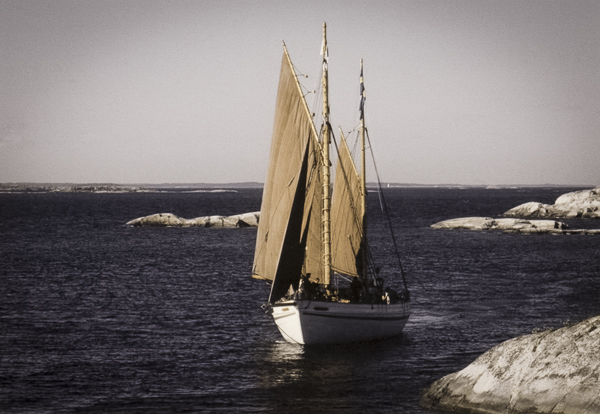 Justus A Wallet sails in the archipelago outside Stockholm. Photographer: © Susanne Svantesson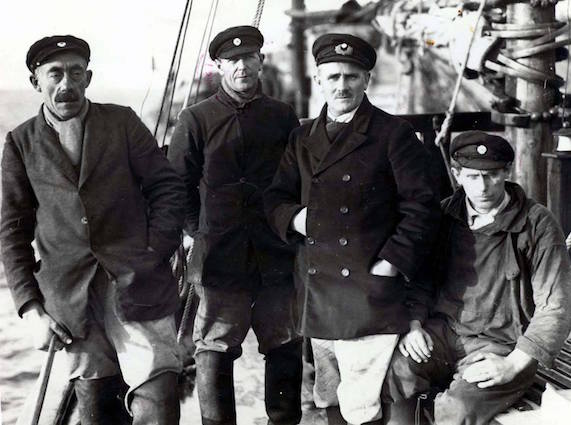 The crew of Justus A Waller 1920. From left Justinus Berlin, Evald Werner, skipper Berhard Österberg and seated Evald Olsson. Photo: SSRS